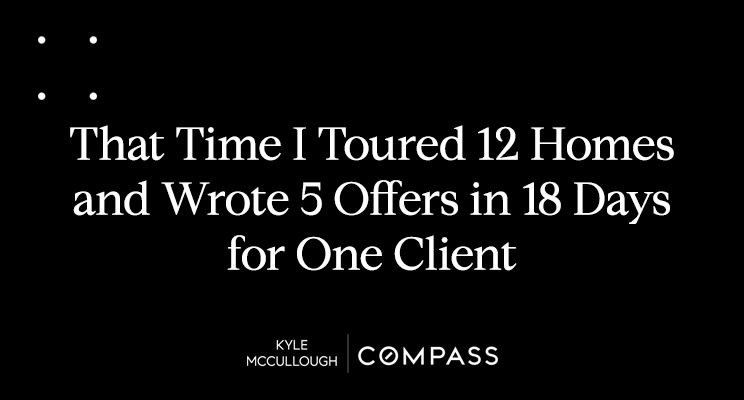 This Is One of My Favorite and Most Rewarding Deals
A story about a highly motivated buyer and a relentless agent who will do whatever it takes to win.
Many San Francisco properties listings are receiving multiple offers, I would say an average of 5-7 offers per home. Listings are also receiving non-contingent offers where the buyers are waiving the opportunity to cancel the purchase. As buyers compete for the winning offer, sometimes they get it on the first attempt, and other times it takes a few offers to finally get it. This market can be brutal, aggressive, and competitive. If prospective buyers are slow to get a loan pre-approval, slow to tour properties, and slow to review disclosures, then they will often continue to miss opportunities. Not only are these homes receiving multiple offers, but they are also ratifying in a short time window of 7-14 days. To scramble everything together a couple of days before an offer deadline is doable, but can also be a level 10 stress case. It's imperative in order to win in the San Francisco (or Bay Area) market that serious buyers come in prepared and pick themselves back up if they don't land the first offer.
During the Summer of 2019, I was working with a family of four. Their lease was ending soon and they needed to find a home quickly. Before we set off on touring homes, they had already acquired a fully underwritten loan commitment from their lender. That means their loan is approved, and they are ready to go with full confidence and peace of mind of their loan closing without any issues. Are you ready for this?
We toured 12 homes and wrote 5 offers in 18 days.
Let's just say these buyers were on it! For every home we wrote on, they had 1-3 backup homes lined up to pursue next. In each offer submission, we gained a deeper level of trust with each other. Through my relationships, communication, and rapport I was quickly able to find out what place our initial offer submission stood and gather information of where we needed to modify our offer to be more competitive before sellers issued any counter offers. The numbers didn't always align with personal value or budget, but gathering this information painted a clear picture of accuracy in the data I was presenting for each home. However, after the first four offer attempts, it was starting to take a burden on their goal of achieving homeownership in San Francisco.
Finally, on the last home and the 5th offer we submitted, we got extremely lucky. The property received six offers, and ours was in second place with the highest offer being $100K over but with a contingency. Apparently, the buyer's terms were shakey, and there wasn't much confidence in them closing the deal. My clients were at their max and could not increase their offer, or bridge the gap of $100K. Not to mention, this a huge gap and a clear sign of overpaying. In many cases, time kills all deals, but for our situation time played in our favor, and the seller accepted my client's offer. The clean terms and already having a loan commitment sealed the deal.
As a team, we got them into a home just before their lease ended, and with an incredible story of how their second-place offer became the winning offer.
Between (you) the buyer, the agent, and the lender, we are forming The Trifecta and The Team who will lead you to victory in achieving the winning offer, and the ultimate prize of homeownership.