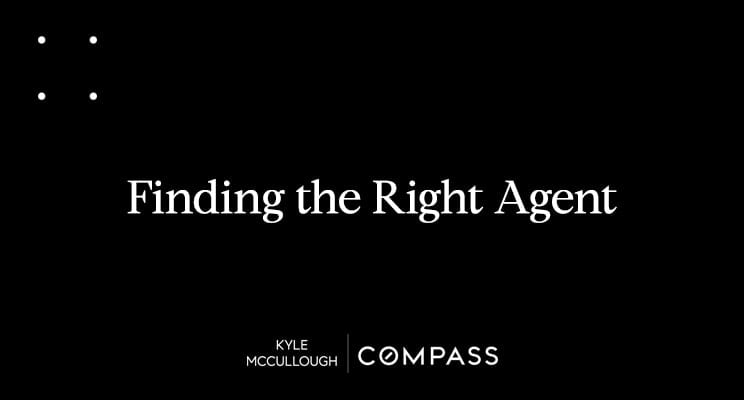 The average person will purchase up to (3) homes in their lifetime. It's imperative to find an agent with a track record of recent and relevant transactions who can effectively help you navigate the process.
There are thousands upon thousands of real estate agents (including me).
Here are a few tips and attributes to look for when finding the right agent to help you buy or sell a property.
1. Full-time vs Part-time
Would you prefer a full-time doctor or a part-time doctor examining you?
Real Estate is a fu
l
l-time job. We often read and hear about national (macro) real estate coverage, but we are often less tuned in to the local (micro) real estate nuances — and the local nuances are constantly changing.
Part-time Realtors® or somebody that does real estate as a "side hustle" will often be less tuned in with the market, have fewer agent-to-agent relationships, and overall just won't have the right up-to-date information or experience to effectively guide you with your investment.
A full-time agent is essential to the rest of the attributes that make a great agent.
2. Responsive & Available for You
A responsive agent is a hard-working agent. A responsive agent is there when you need him or her. A responsive agent wants to make sure your questions are answered and wants to effectively guide you in the right direction.
Real Estate is not a 9–5 business. Touring homes, writing offers, answering calls, and making deals also happen on evenings and weekends too. Whether it's a real estate team or a solo agent you should feel like your agent is (respectfully) making time to service you.
3. Local
Just because an agent is licensed in California doesn't mean the agent is an expert in the real estate market in all cities in California. Working with an agent who lives, works, and who has a track record of sales in the area where you are looking to buy or sell will be imperative to your success.
I'm licensed in California and service the San Francisco Bay Area. If a friend in Sacramento or Los Angeles asked me to work with them, I would be doing them a disservice because I'm not a local expert in those markets.
4. Experience
A Number of Closed Deals: This is an industry where years of experience do not always equate to a great agent. For example, an agent who has been licensed for 8 years with 20 deals (avg 2–3 deals per year) will often be inferior to an agent who has been licensed for 2 years with 20 deals (avg 10 deals per year). The agent with 20 deals in 2 years is doing something greater and will often provide more value through recent, relevant experience.
5. Referrals
I saved referrals for #5 on the list because, in my professional opinion, the referral should also provide the first four attributes.
We all have that friend, uncle, or cousin who has a real estate license and who will offer to help, but if they aren't full-time, responsive/available, local, and experienced, then as much as you want to help them out, it might not be the best referral.
Referrals from colleagues who recently closed with an agent or an agent-to-agent referral can be great resources when finding the right agent.
6. Brokerage
Brokerage nowadays has less impact on the consumer and more impact on the brand name the agent is working under. Different brokerages provide different sets of tools, training, market share, and internal brokerage relationships for the agent. For example, Compass provides me with incredible tools and training to help me do my job better and more efficiently.
There are well-versed great agents at smaller mom-and-pop brokerages as well as the big Brokerages like Compass or Keller Williams. To each their own. For the consumer, it's not the brokerage you are working with, it's the person at the brokerage you are working with.
7. Vibe
This one is probably the most important, because if you don't vibe with the agent who you're working with then none of the other attributes matter.
Trust your gut!
Buyers
There are no fees to work with a buyer's agent. That's right, it's free! The seller pays the listing agent a commission to market and sell their property. The listing agent splits the commission with the buyer's agent. For example, the listing agent may charge a 6% commission fee and split half of the commission or 3% with the buyer's agent. Or a 5% commission selling fee and split 2.5% with the buyer's agent.
That said, it's okay to talk to or interview a few different agents. If it doesn't feel like a great fit, then move on. If it does, then fantastic!
Your agent will help you navigate the process, coordinate home tours, understand the 7–10 page purchase contract, understand the disclosure documents, facilitate the offer, connect you with lenders, vendors, hire inspections, and keep the deal on track to close on time per the terms of the purchase contract.
Agent Loyalty: Agents will be investing their time and efforts servicing you towards your home purchase. Working with a few different agents simultaneously can get messy and can end up in a legal dispute over procuring the cause of which the agent is entitled to the commission. Also, many agents will not want to work with a buyer who is bouncing around with different agents because there is a lack of trust. Some agents may request the buyer to sign an exclusive agency agreement before working together to ensure the buyer is committed to their service.
Sellers
You are hiring an agent to help you get top dollar for your property. It's more than just a fee to pop the home online and wait for a sale. The agent will be coordinating vendors, preparing the home for marketing, analyzing comparable sales, strategizing the listing price to maximize interest and receive offers, gathering documents for the disclosure package, reviewing offer contracts, negotiating price and terms, and much more. Then after an offer is accepted, your agent will be navigating unforeseen issues and making sure the transaction closes. It requires a professional.
It's in your best interest to interview a few agents to find the best fit and vibe for you.